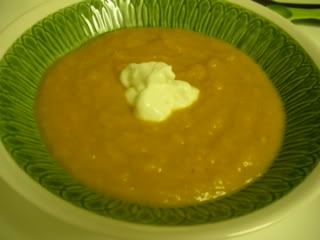 This week's Craving Ellie in My Belly is Curried Butternut Squash Soup chosen by Mare of Meet Me in the Kitchen. I haven't had curry very often (only 1 time I can think of) so I didn't know what to expect with this one. I just made a butternut squash soup a few weeks ago that was pretty good but it was not as heavily seasoned as this one seemed to be.

It was a pretty simple soup to make thank goodness. That was good because the flavors through me off. The curry powder was pretty strong. I don't know if I put to much in or if curry is just to strong for my tastes (I don't like very spicy or overseasoned dishes). I'll have to try more curry to see if I like it. It was also very sweet. Butternut squash is naturally somewhat sweet to me so adding in the honey made it way to sweet. It was an okay soup but the combination of the curry and the honey was just too much for me. Oh well...there's always next time!

Sorry for the icky picture. This soup did not want to photograph well at all!

To see what the other Ellie cooks did with the soup, check out the blogroll here!
**4 more days until I have internet at home!!!**

Curried Butternut Squash Soup

Ingredients
1 tablespoon canola oil
1 medium onion, chopped (about 2 cups)
2 cloves garlic, minced
1 (2 1/2-pound) butternut squash, peeled, seeded and cut into 1-inch cubes
6 cups low-sodium chicken broth or vegetable broth
1 tablespoon plus 2 teaspoons curry powder
1/2 teaspoon salt, plus more, to taste
2 tablespoons honey
4 teaspoons plain low-fat yogurt, for garnish

Directions
Heat oil over medium heat in a 6-quart stockpot. Add onions and garlic and saute until soft but not brown, about 6 to 7 minutes. Add the butternut squash, broth, curry powder and salt and bring to a boil. Reduce heat and simmer until squash is tender, about 12 to 15 minutes. Remove from heat stir in honey and puree with an immersion blender or in batches in a blender until smooth. Season with salt, to taste.

Ladle into serving bowls and add a dollop of yogurt.

Source: Curried Butternut Squash Soup and in The Foods You Crave by Ellie Krieger